Bailey Alicanto Grande Lisbon Caravan Mattress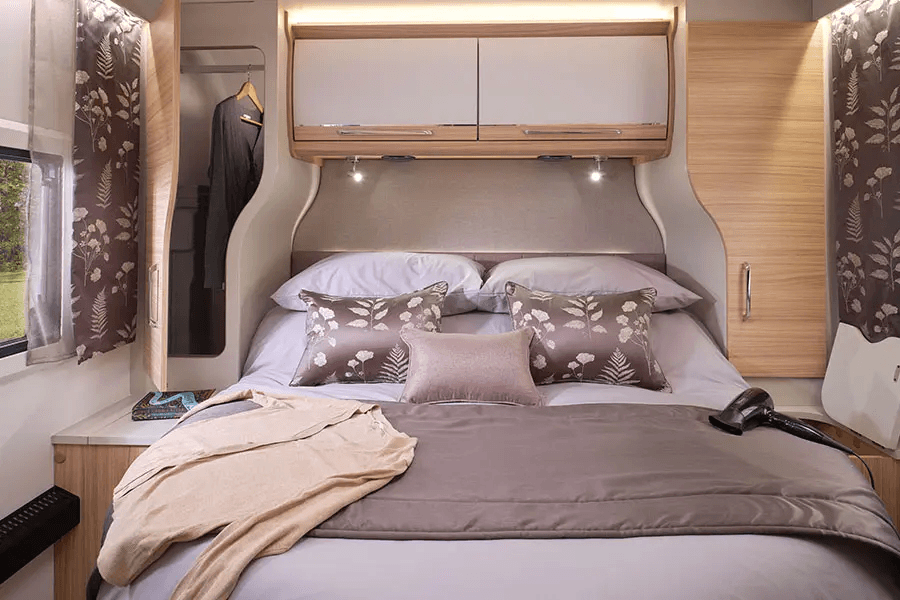 Custom-Made Mattresses for Your Bailey Alicanto Grande Lisbon Caravan
A Caravan Dream Come True! 
Experience Ultimate Comfort with Replacement Custom-Made Mattresses for Your Bailey Alicanto Grande Lisbon Caravan
A good night's sleep is essential while enjoying your adventures in your Bailey caravan. We know that every Bailey Alicanto Grande Lisbon caravan owner deserves the perfect sleep experience. That's why we specialise in creating replacement Bailey Caravan Mattresses for a wide range of Bailey models, including the Alicanto Grande Lisbon.
Bailey Caravan Mattresses: The Bailey Bedroom and Mattress Experience
The Bailey Alicanto Grande Lisbon is designed to provide you with the ultimate comfort during your caravan adventures. One of the main features that make this caravan stand out is the Bailey bedroom and mattress. Some of the new features include:
NEW King-size fixed island beds with aluminium frames and gas strut assisted opening mechanism
NEW Superior pocket sprung 'Poise' fixed bed mattress for enhanced support and comfort
Beech slat bed bases with sprung hinged tops for enhanced comfort
NEW full width back lit soft touch fixed bed headboards adding a touch of luxury
NEW dual shaped wardrobes to maximise fixed bed width with mattress height storage cubby holes
NEW bedside storage compartments for added convenience
By offering these high-quality features, Bailey ensures that you enjoy a restful sleep while on the road.
Bailey Caravan Mattresses: Your Gateway to a Great Night's Sleep
At MyBespokeMattress, we believe that a Bailey caravan mattress should provide the utmost comfort and support. Our custom-made mattresses are designed to fit your specific needs, ensuring that you enjoy a restful night's sleep every time.
Measurements of Your Bailey Mattress: All We Need to Create the Perfect Fit
To create a replacement mattress for your Bailey caravan, we only need the measurements of your existing mattress. Our team of experts will craft a custom-sized mattress that fits your caravan perfectly. No matter the shape or size, we've got you covered.
Any Shape or Size: Crafting the Ideal Bailey Caravan Fixed Bed Mattress
Whether you need a French nearside mattress, French offside mattress, transverse bed, island mattress, or U-shaped mattress, our team is equipped to create the perfect custom-sized mattress for your Bailey caravan. We cater to all types of bed configurations, ensuring that you'll find the ideal mattress for your specific needs.
Ordering Your New Bailey Caravan Replacement Mattress
Placing an order for your Bailey caravan replacement mattress is a seamless process. Simply provide us with the measurements and desired specifications, and our team will craft your custom-sized mattress with precision and care.
Mattresses for All Models of Bailey Caravan: Experience the Difference
Our replacement Bailey caravan mattresses are compatible with all models of Bailey caravans. Whether you own an Alicanto Grande Lisbon, a Bailey Alicanto Grande Evora, or any other Bailey model, we can create a custom-sized mattress that fits your caravan like a glove.
Why Choose Us: The Benefits of Our Custom-Made Mattresses
When it comes to Bailey caravan and motorhome mattresses, our team of experts is dedicated to providing the highest quality products and exceptional customer service. Here's why you should choose us for your replacement mattress needs:
Expertise: Our team of professionals has extensive experience in crafting custom-sized mattresses for Bailey caravans and motorhomes.
Quality: We use only the finest materials and advanced manufacturing techniques to create mattresses that offer unparalleled comfort and durability.
Customisation: Our mattresses can be tailored to meet your specific needs, ensuring a perfect fit for any Bailey caravan model.
Convenience: Ordering your new mattress is a breeze. Simply provide us with your measurements and specifications, and we'll handle the rest.
To learn more about our replacement custom-made mattresses for Bailey caravans, visit our comprehensive guide on the best caravan and motorhome mattresses.